Creating a family home gym is an excellent way to encourage everyone in the household to prioritize fitness. A well-equipped family home gym can provide personalized workouts based on the individual needs and preferences of family members. Also, if you don't want to worry about child care while you go work out, there is still a way to get your workout in! 
There are some things that differ from a normal gym to elevate your space and make it a great place for the whole family. In this blog post, we'll guide you through establishing a fun and effective exercise routine for all members of the family.
From choosing a suitable variety of gym tools like resistance bands, free weights, or even a Peloton bike, to creating your favorite workout playlist – we've got it covered.
We'll also discuss how endurance exercise helps condition your body and build muscle effectively at home. Moreover, we'll explore various apps and fitness apps that make monitoring progress easier than ever before. So stay tuned!
Create a Home Gym Space That Everyone Can Enjoy
Get fit together with a family home gym that's fun for everyone. No need for a huge space or expensive equipment. A corner of your living room, garage, basement, or even outdoor patio can do the trick. However, if you have a large family and want to work together, then you may need a bigger space. Transform your garage or backyard into a space that invites joy and activity for the whole family.
Selecting Home Gym Equipment Suitable for All Ages
Make sure your home gym has something for everyone. Jump ropes and mini trampolines for the little ones, weights, and cardio machines for the adults. It's a win-win for the whole family. If you want to delve even further read more on home gym equipment.
Set Up Your Family Home Gym
If you have a garage gym or outdoor gym, you will want to invest in some type of flooring. Yoga mats are a great piece of gym tools for each family member. They can be used outdoors, or indoors. Turf is a soft, yet reliable surface that suits all ages and many different types of workouts.
Turf can work for an outdoor or garage gym. Worry less about kids getting hurt with some cushioned floors in your garage gym.
Quick Tip: get fun colorful floors for younger kids to look forward to joining you in the gym. Mirrors are also essential for checking for proper form. When your kids are learning more advanced workouts, having a mirror can help them gauge their form.
Some of these ideas are very similar to a normal gym, however, there are some factors to consider for a family home gym.
Home Gym Equipment for Kids under 10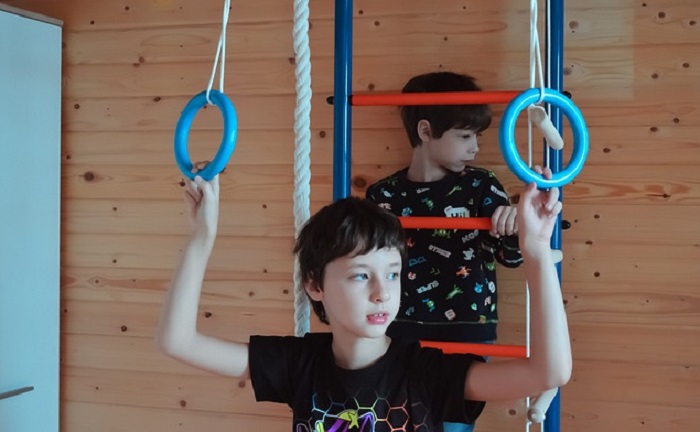 Encouraging kids to be active is easy when you have activities that children can enjoy.
Invest in space separating materials like gates if you have young children that need to stay away from heavy equipment, but you don't have child care. Some of the gym equipment that young ones are typically drawn to.
Workout routines for younger kids might not be as structured as for adults. Make sure to include a variety of options. Here are Ideas:
Ladder and/ or climbing wall with a crash pad. Kids love a jungle gym, just don't forget the pads at the bottom!
Trampoline. The whole family can get some cardio
Obstacle courses. This is such a fun family-friendly cardio event. Take turns designing an obstacle course, race each other, and enjoy time as a family.
Small dumbbells. 2-pound dumbbells are a great introduction to weights.
A shorter and softbox for jumping up on. Get kids an option for when adults do box jumps and the younger ones want to join
Monkey bars
Exercise Equipment for Teens and Adults
Adults and teens can handle more challenging equipment than kids.  Prioritize equipment that can have multiple functions.  Subsequently, each family member can challenge themselves at their individual pace and create their custom workout routines.  Whether a member of the family wants to build muscle or improve endurance, here are some ideas that suit all goals: 
Free Weights
Dumbbells. Investing in a good set of dumbbells and a dumbbell storage rack is a fantastic start to a family home gym. Get a range from 5 pounds, up to 50 plus pounds, depending on the strongest member of the family. Having a 5-pound increment in dumbbells is the best way to get the family involved with a range.
KettleBells. Kettlebells are an alternative or addition to dumbbells. They provide a range of intensity depending on the weight.
Cardio
A stationary bike is a safe bet for a family gym. The peloton bike and app offers a lot of programs for different levels, plus it is fun and interactive. Most stationary bikes would suit a family for cardio.
Accessories
These items are fit for any and all levels of fitness, therefore perfect for a family home gym.
Resistance Bands
Jump ropes
Yoga mats
Pull Up bar
Box jumps
Sports Equipment for an Active Family Life
To bring your active lifestyle beyond your family home gym or backyard gym, investing in some sports equipment that the family can take to parks is a great investment for your family home gym. Fitness goals may develop differently for each member of the family. Therefore having an alternative to a normal gym such as family hikes or games is a great way to provide variety,
Soccer, volleyball, and basketball equipment.
Kayaks, paddle boards, and surfboards. If your family lives next to a lake or ocean then investing in this outdoor equipment is a great idea.
Invest in good running and hiking shoes for your family. Going on family runs is a great way to warm up for the gym, or finish off a family workout session.
Making The Space Inviting And Functional
Let the light in and keep it clean. A well-lit and organized gym space makes workouts more enjoyable and efficient. Plus, it's easier to find that missing dumbbell when everything is in its place.
Incorporating Personal Touches
Add some flair to your home gym. Hang up motivational posters or show off your team spirit with sports flags. Create a space that's uniquely yours. Bring in some fun colors and motivational signs to make your gym a great place for all. Including superhero or princess posters might be the perfect touch.
Safety First.
Don't forget about safety. Secure heavy equipment and keep an eye on little ones. Baby gates can help keep them out of harm's way while you break a sweat.
This setup process may take some time, but once it's done, you'll have a fitness hub right at home where everyone can reach their health goals.
2. Establish a Fitness Routine That Works for Everyone
Creating a fitness routine that meets the needs of all family members can be daunting, but is necessary for an effective home gym. Find balance and flexibility in the schedule. Not all family members will have the same fitness goals. To celebrate all workout routines, find a way to involve all goals and celebrate everyone's achievements. A nice touch would be including a whiteboard that is big enough for everyone to write down goals and exercise equipment they will be using.
Finding Time for Exercise
The first hurdle families face is finding a time when everyone is available. With school, work, and other commitments, carving out exercise time can seem daunting. But with planning and compromise, you can create a consistent workout schedule.
Morning workouts: Boost energy levels by starting the day with exercise.
Evening workouts: For non-morning people or those with more free time in the evenings.
Weaving workouts into daily activities: Add up exercise by doing simple moves during commercial breaks or while cooking dinner.
Variety Is Key
Incorporate different exercises to keep things interesting and engage all members. Try strength training on some days, cardio on others, and even yoga for relaxation and stretching.
Create Personalized Workouts
To accommodate varying fitness levels, create personalized workouts for each family member. This ensures everyone feels challenged yet capable. Remember, it's progress, not perfection. Celebrate every small victory on the path to healthier lifestyles together.
3. Make Exercise Fun
Working out doesn't have to be a chore, especially when you're doing it as a family in your home gym. Discovering various methods of making physical activity fun and enjoyable for all is possible.
Incorporate Games into Your Workout Routine
Get your sweat on while having a blast. Spice up your workout routine by incorporating games. From relay races with medicine balls to obstacle courses around the house, the whole family will be entertained and fit.
Add Music to Your Workouts
Turn up the volume and get moving. Music is a proven motivator during workouts. Create a playlist with everyone's favorite tunes or discover new beats recommended by fitness pros on platforms like Spotify or Apple Music. Let the rhythm guide your family's fitness journey.
Create Themed Workout Days
Make exercise an adventure. Shake things up with themed workout days like "Superhero Saturday" or "Tropical Tuesday." Dress up as your favorite superheroes or channel beach vibes while breaking a sweat. It's an exercise with a twist.
Fitness Challenges
Ready for some friendly competition? Set up weekly fitness challenges to keep the whole family engaged. Who can do the most push-ups in one minute? Who can hold a plank the longest? Let the games begin and watch your family's fitness soar.
Making exercise fun encourages regular participation, leading to better health and faster fitness goals. So let loose, bring on the energy, and enjoy your very own home gym.
4. Monitor Progress and Celebrate Successes
Keep the fam motivated and excited about their fitness journey by monitoring progress and celebrating successes together.
Start by setting clear, achievable goals for each family member. Make 'em SMART – specific, measurable, attainable, relevant, and time-bound. Lift more weight or run longer distances without getting tired – you got this.
Track those goals using tools like MyFitnessPal or check out mobile apps with workout-tracking features.
Family Fitness Challenges
Stay motivated with friendly family competition. Who can do the most push-ups in one minute? Who can hold a plank the longest? Winners get rewards.
Celebrate Achievements Together
Boost morale and reinforce positive behavior by celebrating achievements. Whether it's losing weight or crushing personal bests, give 'em praise or new workout gear.
Maintain A Positive Environment
Keep the home gym positive. Every effort, no matter its size, counts. Let's get healthier together.
FAQs in Relation to Family Home Gym
Why Having a Home Gym is Important?
A home gym provides convenience, and privacy, and saves time and money spent on commercial gyms.
Are Home Gyms a Good Idea?
Yes, home gyms are an excellent idea for maintaining regular exercise routines without the constraints of gym hours or commuting.
Why is Family Fitness Important?
Family fitness promotes health, strengthens bonds, and instills healthy habits in children from an early age.
What are 5 Things You Need for a Home Gym?
Dumbbells
An Exercise Mat
A Resistance Band Set
An Adjustable Weight Bench
A Treadmill or Stationary Bike
Conclusion
By dedicating a space in your home for exercise, you're setting the stage for a healthier lifestyle for the whole family.
Make exercise fun by turning it into a game – challenge each other to see who can do the most push-ups or hold a plank the longest.
Variety is the spice of life, and the same goes for workouts – mix it up with different activities to keep everyone motivated and engaged.
Don't forget to track your progress and celebrate those small victories along the way – it's the little things that count!
Whether you're a family of athletes or just trying to stay healthy together, a home gym is an investment in your physical well-being.